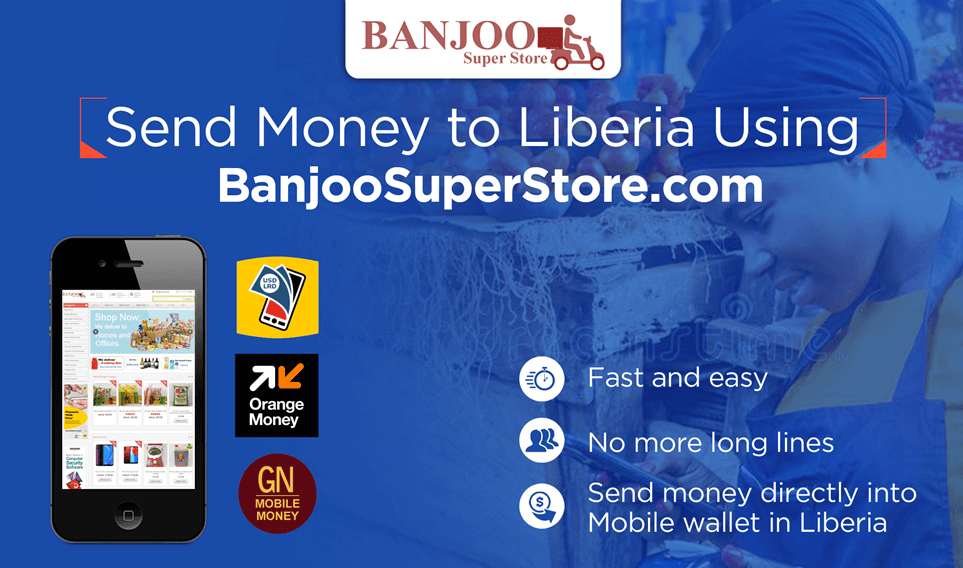 In support of the government of Liberia cashless effort, Banjoo superstore extends its food money transfer service to all. Since April 1, 2020 both Banjoo customers and the Liberian Diaspora can send Food Money directly to family mobile money wallet in Liberia.
Banjoo Food Money Initiative allows Liberians in the diaspora to send food money between 50 to 250 USD to family member's mobile money wallet directly in Liberia.
We do not pay cash outside Mobile money systems! All funds are deposited into the receiver mobile money account only!
| | |
| --- | --- |
| 50—–79 | 4.00 |
| 80 – 100 | 5.00 |
| 101 ——150 | 6.00 |
| 155 ——- 200 | 7.50 |
| 201 ——–250 | 8.00 |
About Mobile money
Mobile Money is powering local trade in Liberia, it is a fast, secure and convenient way to pay for supplies or receive payment in Liberia. Mobile Money currently works on Lonestar Cell MTN and Orange mobile phone number similar to CashApp, Zelle, Venmo in the USA, Payment ID in the Australia and or Swish in Europe. Since 2012 Mobile Money has revolutionize the way Liberians buy and sell and it continue to transform lives each day in Liberia. Hundreds of companies in Liberia including the Government of Liberia pays salaries via Mobile Money; As of March 2020,  statistics shows that over 2.6 million Liberians use Mobile Money daily either to buy airtime, LEC Token, pay for goods and services including groceries, water bill, DStv, School fees, and most Government taxes etc. The service also is being used for remittance to family and friends across Liberia. Banjoo Food Money Initiative allow the Liberian Diaspora to send money directly to a family member mobile money account in Liberia.
Why Sent Money via Banjoo
It's fast and Easy;
Family member don't have to leave their homes or stand in long lines to get the money;
Funds are available in mobile money wallet directly allowing them to start using funds from the comfort of their home;
Please note;
Fund send after 17:00GMT (5pm local time) is transfer next business day
Fund send on Sundays/Holidays is transfer next business day
Transfer time is between 30 minutes to 8 hours depending on the queue